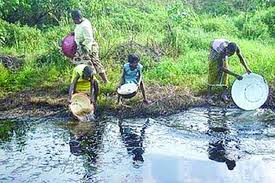 Emma Amaize
11 July 2012, Sweetcrude, WARRI – NO fewer than five children have been killed at Foutorugbene, 1, 2, 3 and Apodubigha communities in Ekeremor Local Government of Bayelsa state following an oil spill that allegedly polluted the river, which is the source of drinking water to the people.
Leaders of the Forutorugbene Federated Communities: Mr. Prey Warri, Emmanuel Jebbi and Samuel Jebbi, who addressed reporters in Warri, Tuesday, said pregnant women were having complicated delivery and ovulation discharge due to intake of the polluted water.
They identified the five children as Arekekedomene Pigha, Blessing Facados, Adiborere Tabode, Premobeowei Debowei and Timiebi Peretu.
According to them, the oil spill occurred on May 21 from the Benisede flowstation, operated by Shell Petroleum Development Company, SPDC, in Ekeremor local government area of Bayelsa state, but since then, the oil company has not carried out clean-up exercise.
"Our fishing activities have been greatly affected as a result of the pollution and this is our means of livelihood. The people are hungry and they need urgent help", they asserted.
"Besides, there is fear of imminent outbreak of cholera, chronic heart disease, cough and other similar epidemics imminent in the areas and we are sad that Shell is neglecting its responsibility. It is this kind of behavior that causes unrest in the Niger-Delta region", they added.
The communities called on the Bayelsa State Government and House of Assembly to intervene in the matter, saying they should prevail on the oil company to put in place measures to alleviate the predicament of the people.