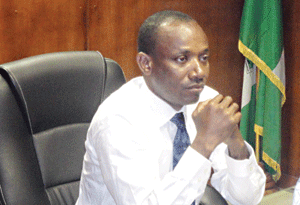 Johnbosco Agbakwuru
18 July 2012, Sweetcrude, CALABAR— NIGERIAN Electricity Regulatory Commission, NERC, has denied allegation by National Union of Electricity Employees, NUEE, that Power Holding Company of Nigeria, PHCN, was valued for N200 billion and that the ongoing privatisation process was shrouded in fraud.
General Secretary of NUEE and Deputy President of Nigeria Labour Congress, Mr. Joe Ajaero, had recently alleged that the purported valuation of PHCN lacked transparency and that there was plot by Federal Government to sell the company to its cronies.
Speaking at the second seminar for Judges on regulation in the electric power sector organised by NERC in collaboration with National Judicial Institute in Calabar, Cross River State, Tuesday, NERC chairman, Dr. Sam Amadi, said nobody had valued PHCN for N200 billion.
He said: "Nobody has valued the power sector to be N200 billion, we are the one who did the asset valuation based on the available asset. Two things are clear, the whole process of selling the asset will be transparent. The committee are there evaluating them, after which the report will published for Nigerians.
"I can assure you that NERC will not approve any sell of public enterprises that is not transparent and does not bring value to the Nigeria people. We will not accept or approve any sweet heart deal and back room deal, everything will be transparent and if there are any questionable transaction and the public write to us we will cancel that transaction".
Dr. Amadi, said that before the privatization, valuation of PHCN's assets would be done by experts.
"The valuation for Port-Harcourt Company is different from that of other distribution companies. These are actual evaluation by experts. They will go to the field, assess the transformers, give the value and use the depreciation asset valuation method," he said.