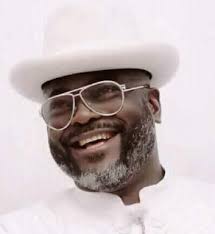 Mkpoikana Udoma
Port Harcourt – Chief Dumo Lulu-Briggs, the governorship candidate of Accord Party in Rivers State and Chairman of Platform Petroleum Limited – operator of the Oil Mining Lease, OML, 38 Egbaoma field – has pledged to create new cities in Rivers State as well as expand opportunities that would create new billionaires from the state.
Lulu-Briggs said that as at 1999, Rivers and Lagos states were at the same level of economic development, and wondered why Rivers State was lagging behind whereas Lagos has gone far ahead to become the fourth largest economy in Africa.
Speaking during a courtesy visit by members of the Nigerian Association of Women Journalists, NAWOJ, in Port Harcourt, he said the situation was unacceptable, as there was need to expand opportunities that would create new billionaires in the state irrespective of tribe.
He promised to lead the state to regain its lost glory as the garden city endowed with crude oil, the sea, international airport, while commending past leaders for doing their best. But, he said there was more to be done to awaken the state to its glorious destiny.
He stated: "As at 1999, Rivers and Lagos states were at par; with seaports and airports, additionally we have the petrochemical and the refineries. And with the military decree, all multinationals had their headoffices in Port Harcourt.
"In that same 1999, insecurity was at the peak in Lagos. Every street in Lagos had a gate because of insecurity. But today, that same Lagos runs the fourth largest economy in Africa, bigger than the economy of Kenya, Togo etc.
"When we wanted to build our Platform House in Victoria Island, we designed to build a seven-storey but the Lagos State Law said our seven-storey building was not acceptable; that all the buildings on that road will be minimum of 15-storeys. Lagos brings out the best in you, we ended up building a 19-storey instead of 15. Look at Dangote, he's building a refinery in Lagos today.
"We have our pats cut out for us. Politics is war and it's war without conscience and we are engaged in that war against hunger, illiteracy, poverty. If we had fought this war sincerely even the issue of insecurity would have been solved.
"I am prepared to create Rivers State of expanding opportunities for everyone irrespective of tribe.
"We will not just create cities but billionaires. We won't be judged by the number of people we have put in school, but by the quality of education they have."
Earlier, the chairperson of NAWOJ in Rivers State, Mrs Susan Serekara-Nwikhana, solicited for partnership with the Rivers-born politician in the area of girl child development.
Follow us on twitter