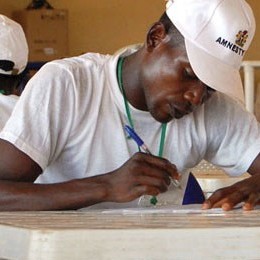 Emma Amaize
11 August 2012, Sweetcrude, WARRI – THE Federal Government-owned Petroleum Training Institute, Effurun, near Warri in Delta State has trained about 350 ex-militants in-house in various skills, the acting principal and chief executive officer, Mrs Nnenna Dennar, has disclosed.
Mrs. Dennar stated this while briefing members of the House of Representatives Committee on Petroleum Upstream, led by the chairman, Hon Ajibola Muraina, who were recently at the institute on oversight function.
She said most of the ex-militants were employed on completion of their training, adding that there was a case of 26 ex-militants that trained as divers, who were employed by a Nigerian company even before they finished the training.
Mrs. Dennar, in response to inquiry by committee members, confirmed that the fees for the ex-militants that were trained by the school were paid by the Presidential Amnesty Office, PAP, Abuja.
"Since inception, the institute has turned out over 26,000 technologists in different disciplines and has recorded significant progress in the optimisation of microbial/cellulosic/crude oil interface in the ongoing Petroleum Technology Development Fund, PTDF sponsored research on microbial crude oil remediation studies," she asserted.
She, however, reeled out challenges facing the school, which include inadequate funding to cater for quality technical training and retraining of staff in a dynamic technological world, ageing infrastructures, limited hostel accommodation and inadequate budgeting for the institute .
The committee chairman commended her for the strides of the institute under her leadership and promised to assist in ensuring that would help to reposition the school.