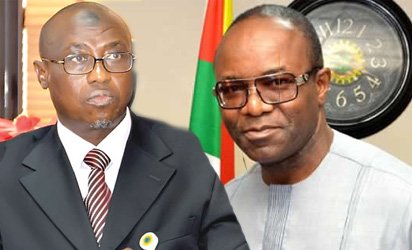 Oscarline Onwuemenyi
11 October 2017, Sweetcrude, Abuja – The Minister of State for Petroleum Resources, Dr. Emmanuel Ibe Kachikwu and the Group Managing Director of the Nigerian National Petroleum Corporation (NNPC), Dr. Maikanti Baru, at least for a few hours on Tuesday, put their bickering aside to discuss the future of the nation's oil and gas industry at the Nigerian Economic Summit.
Both Kachikwu and Baru were speakers at the the Energy Policy Committee breakout session of event organised by the Nigerian Economic Summit Group (NESG), taking place in Abuja.
Kachikwu had accused Baru of insurbodination and said his NNPC management had committed irregularities in the in the award of oil contracts, according to a leaked petition he sent to President Muhammadu Buhari.
In a rebuttal, the NNPC GMD said he did no wrong and repeated his argument that the NNPC board chaired by Mr. Kachikwu had no powers to regulate or approve contracts awarded by the state oil company.
Baru, who spoke when major unions in the oil and gas sector, PENGASSAN and NUPENG, paid the embattled Group Managing Director a solidarity visit, accused Mr. Kachikwu of bandying "humongous" contract figures to incite the public, and described the allegations of award of contracts without regard to due process as "unfounded and unfortunate".
The Minister of State, in his address at the NES session, said Nigerian petroleum industry has immense potentials which are growing on a daily basis.
He admitted that although, presently, the operating environment is tough, things is improving, adding that companies that had suspended their big-ticket projects are beginning to look at the potentials of reviving the projects and are set to take Final Investment Decision (FID).
According to Kachikwu, the Federal Government was looking at areas where it can provide incentives to boost returns for investors, so as to attract more investors into the industry.
He explained that the Federal Government is putting in place machinery to increase the scope of its earnings in the industry.
In his own submission, Baru highlighted the opportunities in the forthcoming marginal oil fields bid round, stating that the successful completion of the process would present a veritable opportunity for Nigeria to grow its crude oil output and create employment.