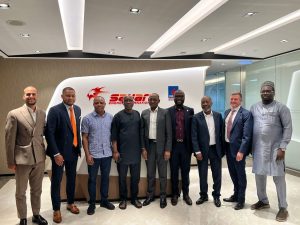 Oritsegbubemi Omatseyin
Lagos — Sahara Energy International Singapore, a Sahara Group Company has called for more collaboration on gas development to accelerate the nation and Africa's march towards energy transition.
The call was made when Sahara Energy played host to Nigeria's Minister of State for Petroleum Resources (Gas), Ekperikpe Ekpo, Permanent Secretary, Ministry of Petroleum Resources, Amb. Gabriel Aduda, Chief Executive, Nigerian Midstream and Downstream Petroleum Regulatory Authority (NMDPRA), Engr. Farouk Ahmed and Executive Director Finance, NMDPRA, Abiodun Adeniji.
The visit was on the sidelines of the Asian Pacific Petroleum Conference (APPEC), a Singapore-based event where business leaders in the oil and gas industry in the Asia-Pacific region meet to share their insights into the market, build relationships, and discover new opportunities.
Chief Executive Officer, Sahara Energy International Singapore, Yomi Benson, Country Manager, Sahara Energy International Singapore, Koyejo Bankole, and Head of Trading, Sahara Energy (Geneva), Jerome Espinasse received the delegation at Sahara Energy's offices at the Millenia Towers in the Temasek Avenue business district in Singapore.
Both parties discussed several issues of National Interest including investment opportunities in Gas production, infrastructure and international trading, investment in gas infrastructures across Nigeria, investment opportunities in gas development, how gas is critical in the quest for ensuring access to energy, a just energy transition and powering industries for productivity and growth. Green bonds and green finance for gas infrastructure developments in Nigeria and Africa at large and the role global financial institutions would need to play also featured in the robust discussions.
The minister expressed satisfaction at the excellent performance of Sahara Group in Asia for the past 14 years, being an energy conglomerate with roots in Nigeria. He called for collaboration in the implementation of the vision of President Bola Ahmed Tinubu for Gas development in Nigeria.
He said: "We most certainly need more partners like the Sahara Group in this regard, businesses that are resolute in their commitment to enhancing energy access for all, energy transition and sustainability in the sector."
Sahara Energy Singapore CEO, Yomi Benson said the organisation was delighted to receive the minister and his entourage. Benson commended the government for its robust vision for gas development in Nigeria. Benson canvassed the need for a review of gas pricing along the lines of domestic consumption and exports. He underscored the importance of guaranteeing continuous gas supply towards reigniting the much-needed Industrial transformation in Nigeria to drive job creation, lower the cost of doing business, lower the cost of production, and improve Nigeria's position as a preferred export base for investors globally.
Benson thanked the Minister and his delegation for the visit to Sahara and reiterated Sahara Group's readiness and capacity to partner with the government in the realization of the various objectives and reforms in the Gas sector. He stated that Sahara Group is passionate about collaborating with national, regional, and global stakeholders to accelerate access to energy and sustainability in Africa as this is how the company brings energy to life responsibly.
He noted that establishing more gas infrastructure in locations with arterial connections to critical industrial processing zones, power generating plants, and major industrial areas would accelerate Nigeria's quest for energy efficiency, grow the economy, and guarantee energy sustainability.