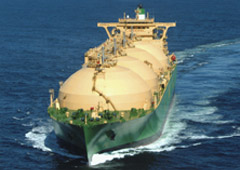 Kunle Kalejaye
02 October 2012, Sweetcrude, LAGOS – EXPERTS in the oil and gas industry are of the view that Nigeria may lose her place in the international gas market if drastic measures are not put in place to utilise the country's gas resources, in view of the growing demand for shale gas in the international market.
The development of shale gas in different parts of the world has become a game changer in the global energy mix. The situation is likely to stall new Liquefied Natural Gas, LNG, projects with implication for Nigeria's gas resources, experts said.
With this worrisome situation, the Nigerian Association of Petroleum Explorationists, NAPE, has made the issue the theme of its 2012 Pre-Conference Workshop.
Speaking with newsmen in Lagos, President of NAPE, Mr. Mayowa Afe said the pre-Conference Workshop, tagged "The Economic Imperative for the Local Utilisation of Nigeria's Gas Resources," will deliberate on the specific challenges in the gas value chain, "if the commodity is to play any significant role in the nation's drive for development".
The Workshop ushers in NAPE's Annual International Conference and Exhibition, which is one of the largest gatherings of oil and gas professionals in sub-Saharan Africa.
"The conference comes up between the 11th and 15th of November, 2012 at the Eko Hotel and Suites in Victoria Island, Lagos," he said.
Afe, who was represented by the President-elect, Mr. George Osahon, noted that the Pre-Conference Workshop will feature discussion on the international development in the shale gas arena; domestic gas utilization: the journey thus far; and Gas to Petrochemicals.
Special guest of honour at the workshop include Engr. Andrew Yakubu, the Group Managing Director of Nigeria National Petroleum Corporation, NNPC.