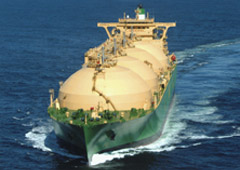 18 April 2013 – Global LNG demand will reach 400 million tonnes per annum by 2020 and 500 mtpa by 2025 according to Hans Stinis, Shell's integrated gas strategy & portfolio manager.
Population growth, which is estimated to eclipse 8 billion by 2030, makes the demand for the clean-burning fuel almost inevitable, Stinis told an afternoon audience at LNG 17 in Houston on Wednesday.
Gas is the "ideal fuel" to satisfy demand, Stinis said. It is "clean" and "easy to transport" and will replace coal over the next 20 years, not only in Europe but worldwide, he predicted.
However, LNG shipments to Europe have been on the wane, displaced by rising coal imports. Stinis wondered whether it was more a result of cheap coal prices or better LNG prices elsewhere.
"We may be close to the bottom," Stinis suggested for European LNG demand. He suspected that an anticipated overhaul of emissions trading and the introduction of a CO2 floor price in Europe "are good signs we are moving in the right direction".
The gas market in China will probably surpass Europe, according to Stinis, who predicted that gas demand in the Asian giant – sparked mostly by industrial use – would reach 50 billion cubic feet per day by 2030.
He also noted that there are 25 LNG importing countries now, compared to just 11 a decade ago – another sign of LNG's growth, Stinis said.
Globally, 250 mtpa to 400 mtpa of new LNG supply projects are on the table, but Stinis suggested some are highly speculative.
"Credible supply" will be key to attract more investment in LNG, Stinis said.
"These are very capital intensive projects, so you want to be sure the market is there," he said.
North American LNG "could be a material addition" to global supply, he said. But there are "sufficient challenges left" to ensure that new plant construction will not be "automatic", he added.
Stinis also brushed aside concerns about LNG oversupply, explaining that "some over capacity" is only a "healthy" buffer.
*Anthony Guegel, Upstreamonline