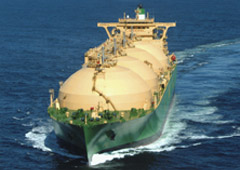 17 April 2013, Hiuston – The Royal Dutch Shell is considering investment options totalling more than 20 million tonnes per year, mtpa, of LNG projects worldwide, to double its position in the global gas business.
The Anglo-Dutch supermajor is doubling down on the global gas trade, which already brings in more than $9 billion per year – about 40% of the company's bottom line – through investment in LNG and gas-to-liquid facilities globally.
Shell has already struck a deal to buy Repsol's LNG assets in Peru and Trinidad & Tobago for $4.4 billion, plugging a gap in the company's LNG portfolio by giving it access to gas supply in the western Atlantic and eastern Pacific area, said Maartin Wetselaar, executive vice president of integrated gas.
Shell sees gas as the only power source that combines what its executives dubbed "the three A's" – availability, affordability and acceptability, Andy Brown, upstream international director, said at the LNG 17 conference in Houston.
Gas will play an increasing role in both the global energy business and Shell's portfolio into the future, he added.
The company has pioneered the use of floating LNG at its Prelude project, a concept that was considered incredibly expensive and technically challenging when it was first announced but something that is now a cornerstone of Shell's LNG strategy moving forward.