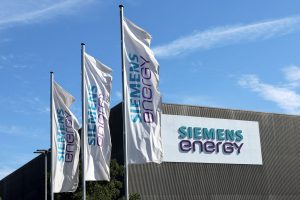 Frankfurt — Siemens Energy (ENR1n.DE) fell for a second consecutive day on Monday, hit by a raft of target price cuts and rating downgrades in the wake of deeper-than-expected problems at its wind turbine division that emerged last week.
Shares were down 4.7% at 1205 GMT at the bottom of Germany's blue-chip DAX (.GDAXI) index, taking the group's loss in market valuation to 7.5 billion euros ($8.2 billion) since trading the announcement late on Thursday.
Citi cut the company to "neutral" from "buy" while Jefferies downgraded to "hold" from "buy", following the group's withdrawal of its 2023 profit guidance and the more than 1 billion euros it says it will cost to fix the issues.
"After the warning, while the stock is now over one-third cheaper, investor confidence in the turnaround has been severely impacted, not just because of difficult-to-quantify risks around fixing past deliveries, but also because of the lack of visibility at (Siemens Gamesa)," Citi analysts wrote.
They said depending on whether reliability issues could be contained or not, a price per share of anywhere between 11 and 34 euros was possible, adding it was key what Siemens Energy would say during third-quarter results on Aug. 7.
Shares in Monday traded around the mark of 14 euros apiece, the lowest level in seven and a half months.
($1 = 0.9162 euros)
*Christoph Steitz; editing: Matthias Williams – Reuters
Follow us on twitter