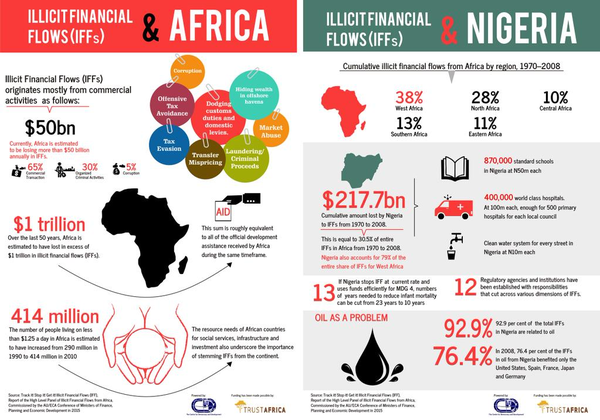 Oscarline Onwuemenyi
01 October 2017, Sweetcrude, Abuja – The zeal for more transparency in ownership of companies has risen in the wake of the 'Panama Papers' scandal that engulfed hundreds of companies and organisations worldwide. Indeed, the prevalence of anonymous or 'offshore' ownership of companies playing in any sector suggests the presence of corrupt and criminal transactions. The continued existence of such 'ghost ownership' of firms in Nigeria's oil and gas industry is yet another stain on the pock-marked face of the sector, and denies the country of valuable income through tax evasion and avoidance.
The campaign for revealing the real owners of the companies in the extractive sector is gathering momentum globally. With the London Anti-Corruption Summit coming after the Panama Papers imbroglio, the campaign for disclosing the real owners of companies will stay high on the global anti-graft agenda. Observers believe Nigeria should seize this momentum, not just to ride on the bandwagon but to strengthen the fight against one of its major challenges in its most strategic sector.
A sure-fire way of tackling the negative impacts of anonymous companies in the extractive sector in Nigeria is to make it mandatory for the companies to publicly disclose who their true beneficial owners are.
Beneficial owners are the real, life and blood individuals who benefit from and exercise control over the companies (as opposed to legal owners and fronts usually filed on registration documents). Having a public registry of beneficial owners of extractive companies will definitely limit abuses perpetrated through use of anonymous covers. No such registry exists in Nigeria at the moment. In fact, there is no law that makes public disclosure of beneficial owners of extractive companies mandatory in Nigeria.
Nigeria is one of the world's most resource-dependent countries, with oil and gas sales constituting 90 per cent of the country's exports in 2016. The strength of oil and gas sector's governance therefore impacts the wellbeing of Nigeria's 180 million citizens.
In its May 2016 Policy Brief, the Nigerian Extractive Industries Transparency Initiative (NEITI) observed that disclosing the real owners of companies operating in the extractive sector Nigeria will not only expand the frontiers of transparency and accountability but also produce multiple benefits for the country.
Despite some progress in auditing and transparency of revenue collection over the past five years, tracking payments from oil and gas companies remains challenging.
Hidden company and property ownership is a big contributor to the nearly $1 trillion US dollars that illicitly leave developing countries, according to the Financial Transparency Coalition, FTC, a global network of governments, civil society and experts. Out of that, an estimated $15.7 billion of illicit financial flow is said to pass through the Nigerian financial system annually. If these figures are anything to go by, it means that Nigeria is one of the top ten countries in terms of illicit financial flows.
Nigerian President Muhammadu Buhari, in his inauguration speech, had promised to tackle the pervasive corruption in the oil and gas sector, as well as financial crimes, head on. He has provided the political will and policy direction for the reform efforts in the sector so far, but clear, effective and sustainable legal reforms would be required to effectively tackle the bogeyman of anonymous ownership of firms operating in the most valuable industry in the nation's economy.
It was recently revealed that Nigeria has lost an estimated $9 billion since 2013 through shady practices in the oil and gas industry. Those behind this "official larceny" might be afraid of losing their ill-gotten wealth, especially in the face of public outrage that may occur after the imminent disclosures.
Watchdog agencies including NEITI have lamented that many of the names contained in the register of companies operating in Nigeria's oil and gas industry are not the real owners. A host of them are just fronts who have chosen to represent the actual owners, whose identities are often concealed. Others exist only in briefcases or "shells". Although it is a legal requirement to submit the names and details of directors of a company before it can be registered, this is regarded as a mere formality.
Often, no one bothers to verify whether the names or addresses listed in the registration forms even exist. This offers ample opportunity for the unscrupulous and the corrupt to go undetected. The truth is that many of those who are regularly listed as directors are not the 'real' owners of the companies. The identities of the real owners are left out in the documentation process even though they have controlling powers over the activities and assets of such companies.
A beneficial owner is one that enjoys the possession and benefits of ownership (such as income) of a company or property, even though the ownership and title is in the name of another entity. In such a situation, the real owner is different from the registered owner. The era of opacity may soon give way if the ongoing reforms that the Nigerian government is implementing under the Open Government Partnership (OGP) are fully realized.
When real owners reside off the radar…
The practice of cloaking the real owners of companies manifests in different forms in the extractive sector. This ranges from chains of ownership (where many companies, including those registered in tax havens and secret banking jurisdictions end up owning a particular company), nominee shareholding (where a shareholder holds stock on behalf of a third party), bearer shares (where the person that holds the physical stock certificate but may not be disclosed anywhere is the real owner), trusts (where a trustee acts for and in the interest of the beneficiary) and the use of fronts or stand-ins.
In most resource-rich countries, anonymous ownership serves as a vehicle for concealing conflict of interests by Politically Exposed Persons (PEPs). When Government officials and politically connected individuals seek to profit from a country's mineral assets, they do so using fronts and ownership structures that do not provide sufficient information about the true identities of the natural persons behind the title. But then the real problem is not just about anonymity. It is that this lack of transparency allows influential officials to use their positions to extract maximum rent from a country's mineral resources with minimum or no benefit to the citizens. In practical terms, billions of dollars are lost annually in royalties and fees for licenses which politically connected individuals appropriate to themselves using fronts and secret ownership arrangements.
Local and international oil companies operating in developing countries typically exhibit a complex structure of ownership that makes it difficult to identify the real individuals behind these companies or their connection to companies with whom they transact business. These relationships matter because the amount of tax which a company pays depends on the profit it declares to the tax authorities.
But the size of the profit depends on the cost of operations. If a company finds a way to incur huge cost for its operations, then it would declare little or no profit or even declare a loss. As a result, it pays little or no tax. If this scheme allows the same company to go back to its suppliers and service providers to get a refund after declaring little profit and paying little or no tax, then the shareholders keep almost everything and the society gets the short end of the stick. Cost-padding, a practice known as gold-platting in the sector, is suspected to be widespread.
There are also suspected instances where companies engaged in some transactions are owned and/or controlled by the same individuals or entities. Transfer pricing is difficult to detect where fuzzy relationships exist between companies transacting business with each other. It is designed primarily by owners to evade tax. Fortunately, a reporting system which makes it possible for everyone else to know the identity of the owner or ultimate beneficiary of both companies significantly lowers the incentive for businessmen to cheat the government and society in this manner. Same with trade mispricing which allows companies to over-invoice imports (inputs) or under-invoice exports (products) in order to increase cost, reduce profits and ultimately pay little tax.
As the leaks from the Panama Papers show the biggest victims of these practices are developing countries, or generally countries with relatively weak institutions of accountability. It is worse where these countries are reliant on the activities of large multinational corporations to exploit their resources to generate revenues without which government is unable to provide services to citizens.
Oil and gas companies in Nigeria operate within a typical multinational business environment, complete with a complex web of commercial relationships and corporate identities that requires utmost regulatory vigilance by accountability institutions. While not usually illegal and not always used for corrupt purposes, secret companies could easily be used to deny countries of badly needed resources and serve as well-disguised vehicles/enablers of corruption.
Action is required
On April 6, 2016, a new law came into place in the United Kingdom, which requires all companies to keep a register of all those who influence and control the company. During the London Anti-Corruption summit later that year, they announced the opening of that beneficial ownership register to the world – which means that those who wish to purchase and own properties in that country will have to publicly disclose the details.
As part of its OGP process, the Nigerian government followed suit and included in the country's National Action Plan a commitment to establish a public register of beneficial owners. The Nigeria Extractive Industry Transparency Initiative (NEITI) has already taken the lead by issuing a roadmap for implementing beneficial ownership reforms. The global Extractive Industry Transparency Initiative (EITI) makes it compulsory for member countries to report beneficial owners of companies operating within the extractive sector.
NEITI's Roadmap on Beneficial Ownership disclosure seeks to outline Nigeria's strategy towards the implementation and fulfillment of Requirement 2.5 of the EITI standard which among other things demands public disclosures of the real owners of oil, gas and mining companies that operate in Nigeria.
The roadmap provides comprehensive plans and actions designed to guide Nigeria in its implementation of beneficial ownership disclosure in the extractive industries. The strategy document also identified the institutional frameworks that are required for effective implementation of ownership transparency, clarity on definition of beneficial owners and explanation on thresholds for public disclosure required in the process.
The roadmap for Nigeria outlined the processes, activities and timeframe for collection, verification and disclosure of beneficial owners of companies within the extractive industry. The document also defined those who fall into the category of Politically Exposed Persons (PEPs) and the reporting obligations expected of them as well as the challenges that may be encountered during the process of data collection, data quality assurance, accessibility and timeliness.
NEITI says its proposed law on Beneficial Ownership disclosure will increase transparency and accountability in the extractive industries. The agency is pushing for the enactment of a specific law that would compel companies operating in the extractive industries to abide by strict Beneficial Ownership disclosure.
NEITI's Director of Communications, Dr. Orji Ogbonnaya Orji, who disclosed this recently during a Roundtable on Oil and Gas Reforms in Nigeria organized by African Network for Environmental and Economic Justice, ANEEJ, in Abuja, stated that disclosing the real owners of companies operating in the extractive sector in Nigeria would expand the frontiers of transparency and accountability and yield other benefits to the country.
Orji lamented the absence of a legal framework that compels companies to disclose its real owners, stating that this had helped fuel corruption in the extractive sector. According to him, due to the fact that there is no statutory obligation to disclose beneficial ownership, politically exposed persons and senior government officials use surrogates to front for them.
He said, "When government officials and politically connected individuals seek to profit from a country's mineral assets, they do so using fronts and ownership structures that do not provide sufficient information about the true identities of the natural persons behind the title.
"The lack of transparency allows influential officials to use their positions to extract maximum rent from a country's mineral resources with minimum or no benefit to the citizens. A case in point is OPL 245 and Malabu Oil."
According to Orji, Nigeria, through the work of NEITI, has made some significant strides in promoting revenue transparency in the extractive sector. "The Nigerian National Petroleum Corporation (NNPC), the state oil company once renowned for opacity, is also opening up and sharing details of its operations with the public through monthly publications. All these align with the anti-corruption stance of the President Buhari administration.
"Implementing and institutionalising a robust mechanism for ownership transparency in the extractive sector in Nigeria will be a logical extension of the work done on revenue transparency, a more systematic and more sustainable way of fighting corruption, a necessary reinforcement of the on-going reforms of the extractive sector in Nigeria."
He further stated that full ownership disclosure would increase government revenues, build confidence between investors and their partner local companies; reduce the incidence of corruption and money laundering and cut off funding for drug lords and terrorists.
In his own remarks, Executive Director, ANEEJ, Mr. David Ugolor, regretted that attempts by former and present administrations to pull through with the Petroleum Industry Bill, PIB, had been unsuccessful adding that while the current administration has equally started to do something about the bill, no significant progress had been made.
According to the ANEEJ director, people or entities whose real identities are shrouded in secrecy probably own more than half of the choice oil blocks in Nigeria. "Part of the reason for this opacity is because they are probably current or former public officials, senior military officers, politicians, and politically exposed persons (PEPs), whose source of stupendous wealth cannot be explained, except to say that they have looted public resources once placed under their care," he stated.
The Corporate Affairs Commission (CAC), the custodian of Nigeria's company registry, is said to be pursuing relevant amendments to the Companies and Allied Matters Act (CAMA), 1990 to comply with global standards. Part of the expected amendments will be the strengthening of sanctions against false information and non-compliance, as well as the inclusion of a section in the company registration form where information about Persons with Significant Control (PSC), will be disclosed.
Furthermore, in line with the open contracting data standard, the Bureau for Public Procurement (BPP) will be expected to establish a publicly accessible registry of licensed owners of all companies operating in Nigeria and those who benefit from public sector contracts. It is expected that these agencies will work together with the Central Bank of Nigeria, which is already implementing the Bank Verification Number (BVN) to link ownership of properties to bank accounts. Coordination of these reforms will be key to realizing the cumulative objectives in the long term.
The Nigeria Economic Summit Group, one of the leading private sector think tanks in the country, is working with Nigeria's OGP secretariat to commit to spreading awareness and building capacity of its members to proactively disclose their beneficial ownership information in compliance with government reforms.
The implementation is expected to assist recovery of some of Nigeria's stolen wealth. It will also make it difficult for those who benefit from ill-gotten wealth to hide it. According the NEITI road map, the implementation of beneficial ownership transparency is bound to meet resistance from those with stakes and vested interests. Although the Petroleum Industry Governance Bill (PIGB) recently passed into law, the sector remains murky.