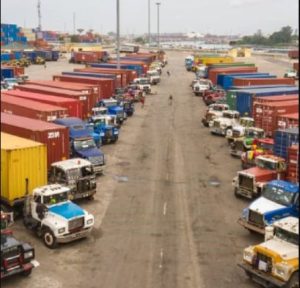 – Apapa LGA denies involvement
Vincent Toritseju
Lagos —  Truck drivers under the aegis of Council for Maritime Transport Unions and Associations (COMTUA) have alleged that for every truck between the Tin-Can first and second gates within the Tin-Can Island Port, they are made to pay as much as N37,500 by both state and non-state actors along the port corridor.
Giving a breakdown of the monies extorted from them, drivers who spoke, said that a fee of N3,000 is paid at the Tin-Can First gate roundabout in front of the Nigerian Ports Authority's office, another N2,000 known as waybill fee is collected by people alleged to be working for the Apapa Local Government Area, a claim the Council has denied.
It was also alleged that another N5,000 is collected by officials of the Nigeria Customs Service inside the port and yet another N1,000 by other set of Customs officials at the Customs exit gate.
They also alleged that the Police at the Port have two collection points where the sum of N2,000 and N1,000 are paid respectively by drivers. This is followed by another payment of N500 fee, known as warehouse fee, and a N2,000 fee collected as Cutting of Seal fee, in addition to another N4,000 allegedly paid to officials of the National Drug Law Enforcement Agency, NDLEA.
Other payments allegedly made by truck drivers are N4,000 collected by another set of Customs Officers, N1,000 for 'small paper' collected by yet to be identified persons.
There is also a confirmation and gate pass of N3,000 and N2,000 respectively, and a security fee of N1,000 that are paid in the port.
One of the drivers who spoke to SweetcrudeReports on the condition of anonymity said that some of them are considering wearing body cameras to expose the unwholesome practices.
He said: "How I wish a good number among us can come together and buy body camera for our drivers. This would be prima facie evidence to prove beyond reasonable doubt."
However, reacting to the allegation, Chief of Staff to the Executive Chairman of Apapa LGA, Mr. Dele Afose, said the Council did not send anybody to collect money on its behalf.
Afose said: "I am not aware of this development; in fact, I am shocked that people are collecting money on behalf of the Local Government. The Local Government did not post anybody anywhere.
"We are going to raid them, anybody caught will be prosecuted, because you cannot profit from your criminal activities while tarnishing the image of the local government."