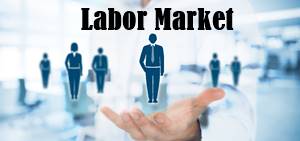 News wire — The number of Americans filing new claims for unemployment benefits fell again last week, pointing to sustained labour market strength and adding to financial market fears that the Federal Reserve could keep hiking interest rates for longer.
Those worries were further heightened by another report from the Labour Department on Thursday showing labour costs grew much faster than previously estimated in the fourth quarter. The labour market remains tight despite rising risks of a recession, contributing to keeping inflation elevated via solid wage gains.
"The labour market shows no fresh signs of deterioration with minimal job layoffs despite the news of big tech firings the last several months, and this will harden the resolve of Fed officials to slow economic demand down with higher interest rates," said Christopher Rupkey, chief economist at FWDBONDS in New York.
Initial claims for state unemployment benefits dropped 2,000 to a seasonally adjusted 190,000 for the week ended Feb. 25, the Labour Department said. It was the seventh straight week that claims remained below 200,000. Economists polled by Reuters had forecast 195,000 claims for the latest week.
Unadjusted claims dropped 9,297 to 201,710 last week. The decline was led by California and Kentucky. There were notable decreases in claims in Michigan, Ohio and Texas. Big increases in claims were reported in Massachusetts and Rhode Island.
There is still no sign that high-profile layoffs, mostly in the technology sector, have had a material impact on the labor market, with economists and policymakers saying these companies hired too many workers during the COVID-19 pandemic and were not representative of the overall economy.
Economists also speculated that severance packages were keeping some laid-off workers, most of them highly paid, from filing claims. With 1.9 job openings for every unemployed person in December, people who have lost their jobs may be finding works easily.
Seasonal adjustment factors, the model the government uses to strip out seasonal fluctuations from the data, also may be keeping claims lower, according to economists. The seasonal adjustment factors for 2023 will be updated at the end of March.
Follow us on twitter