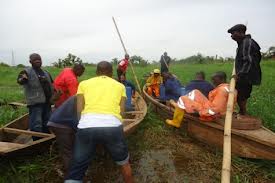 Clara Nwachukwu
25 January 2013, Sweetcrude, Lagos – The West African Gas Pipeline Company (WAPCo) may record a gross loss of $2.4 billion (N384 billion) within four months if the vandalised sub-regional pipeline remains unrepaired by the end of this month.
This was disclosed by the Managing Director of the company, Charles Adeniji, who told journalists during a media briefing on the damaged pipeline, that the incident had resulted in a daily loss of between $500,000 to $600,000 to the company.
WAPCo's gas pipeline was breached in August, truncating supplies to Ghana's power plants, a development in which the company is uncertain when it would resume flow of gas from Nigeria to neigbouring African countries.
The pipeline suffered a set-back in October when it experienced a fatal accident during the re-commissioning of the Takoradi Regulating and Metering Station in Ghana.
The pipeline was shut down in August last year after experiencing a loss of pressure around the Lome segment of the facility.
General Manager, Corporate Affairs of WAPCo, Harriet Wereko-Brobby, had said in a press statement that the accident, which resulted to two fatalities, derailed the re-commissioning exercise.
WAPCo has faced serious challenge trying to fix the pipeline, which resulted power outages in some parts of Ghana due to the shortage of gas to many power plants.
Ghanaian President, John Dramane Mahama, during his visit to Nigeria recently, appealed to President Goodluck Jonathan to expedite action on the resuscitation of the West Africa gas pipeline to enable Ghana enjoy regular power supply.
WAPCO resumed flows of Nigerian natural gas to Ghana two years ago, following a one-year outage caused by vandalism and fuel quality problems.
The volume of gas flowing was approximately 30 million standard cubic feet per day, which was enough to generate 110 megawatts of electricity
The resumption of flows on the line on March 20, 2011, allowed power plants in Ghana's western port city of Takoradi to switch from the costlier light crude they had been using, to produce electricity since the shutdown last May.
Also, another major challenge facing the multi-million dollar gas project was the issue of encroachment on its by Right of Way (RoW) miners.
The company has asked the Federal Government to declare as illegal, mining activities on the company's RoW as frequent encroachment on it poses a serious threat to the recently completed pipeline.