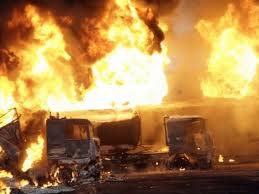 Emma Amaize, Jimitota Onoyume
and Egufe Yafugborhi
13 July 2012, Sweetcrude, PORT HARCOURT – OVER 98 persons, including pregnant women, youths and children perished, Thursday morning, on the East-West Road, at Okogbe community in Ahoada West Local Government Area of Rivers State, when a crashed petrol tanker from which they were scooping fuel exploded in flames.
The ill-fated tanker, it was gathered, was trying to avoid a head on collision with a commercial vehicle at about 7am when it lost control and ran into a ditch, falling on its side.
Several other persons sustained various degrees of burn injuries. Sympathisers rushed survivors to hospitals.
No fewer than five buses and scores of motorbikes were destroyed in the inferno, which also affected a section of a filling station, some distance away from the scene of the incident.
The development caused gridlock on the usually busy East-West road as vehicles from the Port Harcourt and Warri ends were stranded for hours. Most motorists, who could not bear the trauma, were forced to make a u- turn.
Commercial vehicles from Yenagoa, heading to Port Harcourt were also forced to beat a retreat when the news filtered into town.
According to witnesses, residents rushed to the scene where fuel from the fallen tanker was gushing out and were busy scooping it into jerry cans, when the tanker exploded, engulfing them in a huge fireball and consuming everyone in the ditch scooping fuel.
The raging inferno spread rapidly to the main road cutting off the route and also engulfed those on motorbikes carrying the scooped fuel in jerry cans
Helpless residents were forced to use their motorbikes in conveying burnt victims to hospitals at Ahoada and Mbiama in Rivers, a border town between Rivers and Bayelsa.
Men of the Nigerian Police Force and soldiers who arrived the scene helped in controlling traffic and restored sanity on the chaotic route.
A native who simply gave his name as Francis said though he counted 98 bodies burnt beyond recognition, the number could be more given the number of residents that thronged the scene in their desperate attempt to scoop the spilling fuel from the tanker.
He added that there might have been a spark during the stampede for the product by some residents who were carrying steel containers for scooping the fuel.