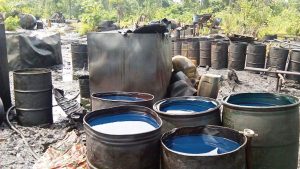 Mkpoikana Udoma
Port Harcourt — The 6 Division Garrison of the Nigerian Army in Port Harcourt has apprehended a truck laden with 80 drums of suspected illegally-refined Automotive Gasoline Oil, AGO, commonly known as diesel, in Ahoada East Local Government Area of Rivers State.
The Commander, 6 Division Garrison, Brig. General Eddie Effiong, said the product was seized three days ago along Abua/Okporowo Road in Ahoada Main Town, through an ambush set up based on intelligence.
Effiong, while showing newsmen the impounded products, explained that the AGO was conveyed in a container truck and disguised as lubricants, adding that the suspects conveying the products fled the truck, into the bush on sighting the military check point.
He appealed to motorists for understanding and collaboration during military stop and search operations and stated that all kinds of vehicles were now used in illegal oil bunkering activities.
"This is another height of illegal oil bunkering in the Niger Delta. Normally, petroleum products are conveyed in petrol tankers, but this one was conveyed in a container truck which is meant for solid goods," he said.
He continued: "Based on intelligence, an ambush was laid and the truck was caught; and on opening it what we saw was about 80 drums of illegally-refined AGO. So, it was apprehended and then moved down to the garrison.
"This goes to show the extent which people can go to commit crime. Ordinarily if this product was to be in a petrol tanker, they would have been easily apprehended, but since this is a container truck, one will think it's ordinarily some frozen food items.
"But, we want the oil thieves to understand that as they are devising new methods, we equally are going to be on their toes and apprehending them
Therefore if truck drivers are stopped on the road for stop and search, they should not get angry, since any kinds of vehicles can now be used to transport illegally refined petroleum products."
The 6 Division Garrison boss further disclosed that the products would be destroyed to serve as a deterrent to others.