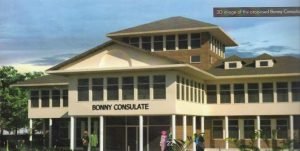 Mkpoikana Udoma
Port Harcourt —
The Nigeria LNG Limited, NLNG, has signed a Memorandum of Understanding, MoU, with Julius Berger, for the construction of the Bonny Consulate, a 19th century historical monument in Bonny Kingdom.
Managing Director of NLNG, Tony Attah, and Managing Director of Julius Berger, Lars Richter, signed the MoU in the presence of the Amanyanabo of Bonny Kingdom, His Majesty, King Edward Asimini Pepple, at the weekend.
Attah assured
 that the consulate building will be ready before the end of 2021, while commending the host community for their support to the company.
The NLNG boss 
expressed the company's desire to deepen her involvement in the development of Bonny Island
, through the Bonny Kingdom Development Foundation.
Also, the Managing Director of Julius Berger, Lars Richter, commended the people of Bonny Kingdom over what he described as accommodating embrace, explaining that the island has been a key project site for the company.
On his part, the Amanyanabo of Bonny Kingdom, King Edward Asimini Dappa said the development story of Bonny Kingdom cannot be told without the strategic contributions of NLNG.
The monarch commended NLNG for her sustained support in the development of Bonny Kingdom, noting that the consulate building would drive tourism in the kingdom as well as the much needed economic diversification on the island.
"Honestly, I will always commend NLNG for their contributions in the development of this Kingdom.
"We appreciate the construction of this building for the development of Bonny Kingdom. We acknowledge the Bonny Consulate Building as a fitting gift from the Nigeria LNG," the Bonny monarch said.
In October 2019, NLNG as part of its
30 years of incorporation and 20 years of production anniversary celebrations, laid the foundation stone for construction of the Bonny Consulate, as part of its corporate social responsibility.
The consulate building, which was the seat of British colonial administration with a district commissioner and other administrative offices in 1897, is being reconstructed by NLNG, to restore the memory of the ancient artefacts.
When completed, the building will replicate the look of the old consulate building and will house a radio station, office of the King of Bonny, a library, a museum, a café, a cinema, an exhibition hall, as well as a souvenir shop as well as offices.