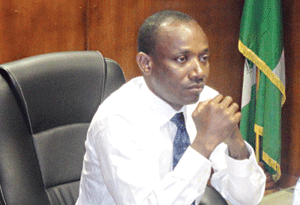 30 August 2013, Abuja – The Nigerian Electricity Regulatory Commission, NERC, has decried the poor adherence to safety regulations in the power sector which it says is at 88 per cent compliance level.
Speaking at a quarterly meeting with electricity industry health and safety managers and the engineering, standards and safety division of NERC in Abuja, Chairman of the Commission, Dr. Sam Amadi, said that the health and safety indicators have shown only 88 per cent compliance, whereas international standard stipulates a 100 per cent compliance level.
Amadi who empathised with the managers on the challenges they may be facing, urged them to work towards achieving a zero level occurrence, noting the value in safety.
Amadi stressed that "safety is not all cost, it has value. It saves lives, it saves the network, utmost professionalism is expected," even as he urged the managers to share ideas with the Commission on safety which is for the benefit of all. Commenting, the Commissioner, Engineering Standards and Safety Division of NERC, Mrs Mary Awolokun, lamented the number of deaths recorded so far within the third quarter 2013, in the course of work.
Awolokun noted with regret that there had been 59 deaths and 64 injuries in the period under review and attributed the development to lack of attention to safety, stressing that the deaths could have been avoided if the standards had been adhered to.
She further urged the managers not to take their positions as routine, but one that needs a reliable and safe environment.
– Juliet Alohan, Leadership