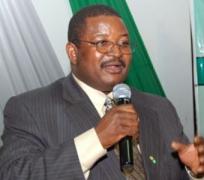 Oscarline Onwuemenyi

05 July 2012, Sweetcrude, ABUJA – The newly-appointed Group Managing Director of the Nigerian National Petroleum Corporation (NNPC), Andrew Yakubu, has vowed to re-focus the Corporation to ensure the commercial viability of the Corporation in order to remain competitive in the global oil and gas industry.
To this extent, he said that the management team under his watch will introduce new business models in all its Strategic Business Units (SBUs) and Corporate Service Units (CSUs).
Yakubu made this disclosure during his inaugural town hall meeting with management and staff of the NNPC at the Corporation's headquarters in Abuja on Wednesday.
The GMD stressed that the management team would reposition the NNPC to become a commercially focused and profit-driven organization that is governed by best management practices using current technology in its effort to transform the Corporation.
"To ensure early realization of this objective all SBUs and CSUs must be positioned to pursue and maintain competitive operational and business efficiency, cost effectiveness, input/output optimization, revenue maximization and profitability," the GMD said.
He listed the initiatives to be considered by the new management for immediate approval and implementation to include: new business models and organizational structures for all the SBUs and CSUs such as NNPC Retail Ltd, Nigerian Petroleum Development Company (NPDC) and others; capitalize and create profit-oriented SBUs; implement Project Sanction and Approval Procedure (PSAP); and implement performance management based on commercial orientation.
According to Yakubu, his agenda for the new NNPC will also include focusing on entrenching accountability and transparency, rebuilding NNPC's financial position, implementing NPDC growth strategy, monetizing gas resources for national economic growth and development, revamping critical facilities and infrastructure as well as promoting capacity building, empowerment and staff welfare.
The NNPC helmsman added that the NNPC under his watch will review all audit reports on its activities in the past five years with a view to building a comprehensive information data base to improve the Corporation's performance and quickly address relevant recommendations.
"NNPC will have a zero tolerance for corruption and all cases of corrupt practices will be severely dealt with in accordance with extant laws," he concluded.
He stated that the Corporation will ensure the security and rehabilitation of its key pipeline infrastructure across the nation to ensure efficient supply and distribution of petroleum products to every nook and cranny of the country.
The new NNPC helmsman assured that management will work towards providing adequate welfare package for staff as well as strengthening its human resource base which he described as the Corporation's greatest assets.