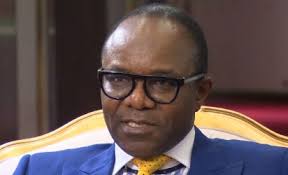 Ike Amos
05 November 2017, Sweetcrude, Abuja — The Federal Government of Nigeria has announced plans to conduct licensing bid rounds for the country's seven inland basins to enable companies with the requisite capacity help boost the country's crude oil production.
Minister of State for Petroleum Resources, Dr. Ibe Kachikwu, in a podcast in Abuja said, "We are planning our marginal fields' rounds and we are also planning our inland basins rounds. It is going to be a transparent process to bring people to get us more oil. The rules are going to be out soon once it is approved by His Excellency."
Kachikwu further stated that this was among the plans by the country to increase its crude oil output to 2.2 million barrels, subject to OPEC constraints, adding that the country would ensure that the necessary infrastructure to help drive output would be fixed.
He said, "Infrastructure is key to us, our infrastructure is 30 to 40 years old; completely dilapidated; and cannot be funded by the government anymore. I am working with the Nigerian National Petroleum Corporation (NNPC) and the Department of Petroleum Resources (DPR) to launch our infrastructure master plan and bring people who can invest in them."
He also added that the Federal Government intends to deepen the Niger Delta engagements, noting that in the coming days, he would return to the region to hold talks with governors of the region and the oil companies, to put a seal to some of the agreements that had been reached and sign memorandum of understandings, where necessary.
He noted that in 2018 and 2019, the country would focus on addressing its refining challenges, while he reiterated the determination of the Federal Government to exit petroleum importation by 2019.
He said, "To the big picture of 2018 and early 2019, what are the key things we are going to focus on? First is the refineries, I have talked about this over again, it is important that we get these refineries working.
"We must exit importation in 2019, and we are happy Dangote is working very hard and bringing back the timeline for the completion of his refinery. If we can do that, we are going to be saving the country over 30 per cent of forex application on importing petroleum products."
Continuing, he said, "We were able to exit the joint venture cash call. Still a bit of things to be ironed out there, but for the first time, multinationals began to have belief in their need to invest in the country.
"The amount of investment requests we are seeing from joint venture cash call members is today in excess of $14 billion – $15 billion dollars which are for purposes of projects like Zabazaba, Bonga extension programmes and all that. Multinationals are beginning to have confidence that this system is working