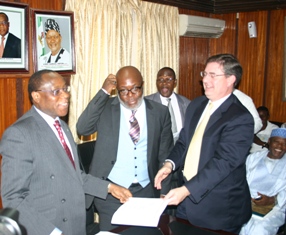 04 July 2012, Sweetcrude, ABUJA – A $4.5 billion deal to build six refineries in Nigeria is set to make Africa's top oil producer less reliant on exports for oil products, authorities say.
Yemi Kolajo, a spokeswoman for Nigeria's trade ministry, said in a statement that U.S.-based Vulcan Petroleum Resources Ltd. and Nigerian-based Petroleum Refining and Strategic Reserve Ltd. signed the memorandum of understanding with the government in the capital, Abuja.
Two of the six refineries are to be built within the next year, Kolajo said.
Nigeria, despite producing about 2.4 million barrels of oil a day, has decrepit refineries unable to meet the nation's growing demand for gasoline due to years of mismanagement and sabotage.
The six new refineries will refine a total of 180,000 of barrels of oil per day in a bid to address that need, the statement said.
Edozie Njoku, chairman of the Nigerian partner, said Tuesday that all the funding for the project would come from outside the country. He said they opted for modular refineries because there are many local challenges to building a refinery from scratch. Each refinery will be built in the U.S., disassembled for shipping and reassembled in Nigeria, he said.
"Our job as the local partner is to make sure that the government does all we asked of them," Njoku said, "that they approve all the permits, etc." He said the U.S. partner company was a venture capitalist that would be bringing investors as well as technical know-how. The company could not immediately be reached for comment.
The government has shown a lot of will to make this happen, Njoku said. "They really want to start refineries in this country, they are committed to it."
The deal comes six months after the Nigerian government tried to end a cherished fuel subsidy program that had kept Nigeria's largely imported fuel cheap for more than two decades. President Goodluck Jonathan said the country could no longer afford it. The move meant that prices at the pump jumped from 45 cents per liter ($1.70 per gallon) to at least 94 cents per liter ($3.50 per gallon) on Jan. 1. Jonathan later announced a new, partially subsidized price of 60 cents a liter ($2.27 a gallon) to stop a six-day national strike.
Nigerians consider cheap fuel one of the only benefits they reap from living in an oil-rich but impoverished nation.
The subsidies, in theory, keep prices artificially low for Nigerian consumers. Because of the country's reliance on exports, fuel actually comes into the country at global prices.
Functioning refineries will reduce the bill of the subsidy which Nigeria's finance minister, Ngozi Okonjo-Iweala, recently put at $8 billion for 2011. But, this bill also includes the heavy price of corruption, authorities say.
Top officials, including Okonjo-Iweala and Nigeria's respected Central Bank Governor Lamido Sanusi, have said corruption inflates the cost of the subsidy program.
A recent probe by lawmakers said billions of dollars have been wasted in the program. The head of that probe, House of Representatives member Farouk Lawan, is now being accused of accepting a $620,000 bribe from an oil company that had been under investigation during the probe. Lawan has denied any wrongdoing.