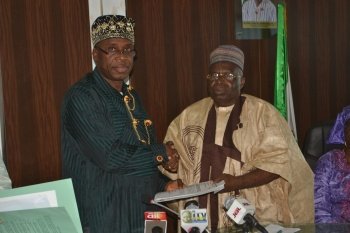 Mkpoikana Udoma
13 August 2018, Sweetcrude, Port Harcourt — The Nigerian Maritime Administration and Safety Agency, NIMASA, has expressed concerns over the current spate of boat mishaps with attendant loss of lives and valuables across the country.
To this end, the agency has proposed an active collaboration between it and other relevant agencies including the National Waterways Authority, NIWA; Nigerian Ports Authority, NPA; National Emergency Management Agency, NEMA and the National Orientation Agency, NOA, to checkmate the tragic incidence.
The Chairman, NIMASA Board of Directors, Maj Gen India Garba (Rtd), who said that the ugly incidence tended to happen more often in the rainy season, also identified overloading and improper kitting of passengers for water journeys as the main factors responsible for the various boat mishaps in the country.
Garba explained that agency has already set up maritime safety volunteers (search and rescue team) who are to be deployed to jetties to assist in ensuring that safety standards are adhered to by boat operators and to also help in providing relief in times of crisis in the waterways.
He also disclosed that plans are underway to deploy officials and security agents to various jetties to ensure strict compliance to safety standard of boat operations in our waterways.
According to him, "In most cases, it is our recklessness and refusal to stick to safety instructions that lead to these mishaps. Jetty operators must comply with safety standards; they must ensure that an appropriate number of passengers are seated in a boat and that they are appropriately kitted with life jackets before embarking on journeys in the waterways.
"It is disturbing that these tragedies keep recurring; NIMASA intends to collaborate with relevant agencies in order to reduce and checkmate these ugly incidences across the country.
"However, in spite of this intervention, NIMASA cannot do it alone considering the vast number of rivers and waterways that boats traverse in this country hence the need for collaboration with relevant agencies of government."
Noting that President Muhammadu Buhari is saddened at the sequence of these catastrophic accidents that have claimed a number of lives in the recent past, The NIMASA Chairman also expressed his sadness over the deaths and pray God to grant the souls of the deceased eternal rest and their family members the fortitude to bear the tragic loss.
It should be noted that in the last two weeks boat accidents have claimed 34 people in the country. 21 passengers in Sokoto state while in Rivers state, a courageous patriot, Mr. Joe Blankson, lost his life after rescuing 13 out of 14 passengers in a boat accident; two children also lost their lives one week later in another boat accident; while nine NYSC members got drowned in a river in Taraba state following a boat mishap.