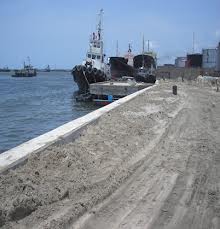 14 September 2012, Sweetcrude, LAGOS – NIGERIAN Maritime Administration and Safety Agency, NIMASA, officials, together with arrmed forces personnel working for Global West Vessel Specialist Limited, GWVSL, Thursday invaded and sealed off an oil depot in Apapa, Lagos for alleged involvement in petroleum product theft.
The depot belonging to Integrated Oil and Gas Limited, owned by former Transport Minister, Captain Emmanuel Iheanacho, according to NIMASA, received stolen petroleum products from the vessel, MT Grace.
The NIMASA officials had stormed the depot with State Security Services, SSS, and military personnel working for GWVSL, believed to be owned by erstwhile leader of the Movement for the Emancipation of the Niger Delta, MEND, Chief Government Ekpemupolo, popularly known as Tompolo, which is executing a security contract for the Federal Government.
The security took over the tank farm, arrested some workers.
Iheanacho has, however, said the action of the security personnel was part of calculated efforts to ruin his business.
Maintaining that his company was not involved in fuel theft, he said his the company only has a business relationship with the owners of the cargo and that the business relationship has nothing to do with stolen petroleum products.
According to him, rather than arresting the owners of the controversial cargo, he said the invaders harassed, intimidated, arrested and took away some of his workers on handcuff.
He lamented: "They invaded our facility. They beat up our people and journalists. They seized the phones of our people and took them away in handcuffs.
"The objective is to cripple our business. We worked so hard to create employment opportunities for Nigerians but the encouragement we receive is harassment, and intimidation".