– Spent N2.99bn to register 'NNPC Ltd'
Ike Amos
Dublin, Ireland — The Nigerian National Petroleum Corporation (NNPC) has stated that it spent N1.78 trillion in 2021, as subsidy for Premium Motor Spirit (PMS), also known as petrol.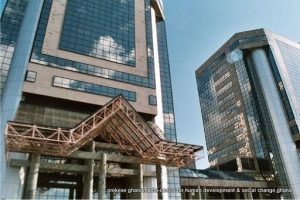 This was even as the management of the national oil company disclosed that N2.999 billion was spent to register 'NNPC Limited' with the Corporate Affairs Commission (CAC).
In its audited financial statements for 2021, released recently, the NNPC disclosed that the amount spent to subsidise PMS, which it termed under recovery, represented 45.03 per cent of the N3.953 trillion it recorded as total cost of petroleum products sale in the year under review.
The NNPC stated that it earned N3.643 trillion from petroleum products sales in 2021, compared with N2.276 trillion recorded in 2020; while the cost of sale for the petroleum products was N3.953 trillion.
Providing an explanation for the cost item, the NNPC said: "Crude supplies for domestic use represents the cost of crude purchased by the corporation from the Federation at the prevailing international market price for local market consumption. When the crude is converted to refined product either through the refineries or DSDP arrangement, the PMS is usually sold to the local market at a price below the prevailing market price, leading to under recovery.
"These amounts are receivable to the corporation as they are defrayed and charged against amounts due to Federation on a monthly basis in line with approval obtained. Other approved defrayed costs charged to Federation include crude and product losses and pipeline maintenance costs."
The NNPC further noted that total defrayed cost for 2021 stood at N1.83 trillion, comprising N1.78 trillion for under recovery; N16.2 billion for crude and petroleum products loss; and N26.9 billion for pipeline management cost; adding, however, that an outstanding amount of N651 billion is to be defrayed subsequently.
On the registration of NNPC Limited, the corporation noted that of the N2.99 billion spent, N1.49 billion was paid to the CAC for the actual registration, while N1.5 billion was paid as stamp duties to the Federal Inland Revenue Services (FIRS).
Other major cost items in the 2021 financials, according to the NNPC included an operating expense of N34 billion for hiring of vessels and N36.9 billion for security and protocol expenses.
The NNPC further stated that it paid N52.135 billion as penalty for gas flaring in the year under review; freight, insurance and other charges cost the corporation N104.873 billion; crude handling and port charges stood at N177.291 billion; flow station expenses gulped N83.619 billion; while N31.936 billion was expended on pipeline maintenance.
Follow us on twitter