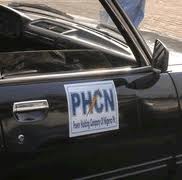 13 August 2013, Lagos – Power Holding Company of Nigeria,PHCN, Ijora Business Unit in Lagos has bought two operational vehicles and another for its staff social club to enhance service delivery and workers welfares towards effective revenue generation. The Business Manager of the unit, Mr Uzoh Obialeri, also assured customers within its network of complete quality service delivery to boost revenue drive.
Obialeri gave the assurance during the official commissioning of the vehicles at the weekend, in Lagos. He said that the Business Unit is committed to improved service delivery to all its customers, while assuring improved workers' welfare.
"We have inaugurated business and quality services delivery team in the unit that will respond promptly to customers' difficulties. Additional operational vehicles have been commissioned to enhanced service delivery, while recreational centre has also been created for our staff to cushion their work efficiency. "Today, we want to recognise and reward departmental staff who have made exemplary achievement within three months in boosting the unit revenue generation," he said.
Obialeri also assured customers of accurate meter reading; prompt bill delivery, and prompt clearing of electrical faults in order to reduce the period of power outages induced by technical faults. In his remarks, the Chief Executive Officer of Eko Electricity Distribution Zone, Mr. Oladele Amoda, lauded the Business Unit for its initiatives, and promised total support for the workers' welfare. Amoda also pledged N1 million towards improving the unit's recreational centre and social club that is geared towards enhancing effective revenue generation and workers relaxation.
"I want to use this medium to commend workers because they are the hard working and dedicated to their country. The workers are more dedicated, they are tagged miracle workers who squeeze water from stone in view of the peculiar and difficult circumstances in which they operate," he said.
He added, "Ijora Business Unit has made us proud, I urge all of you to key into the President Goodluck Jonathan's transformation agenda in order to drive the sector forward. I implore you to treat your customers as 'King' and imbibe polite ways of expression with the customers."
– Kunle Kalejaye