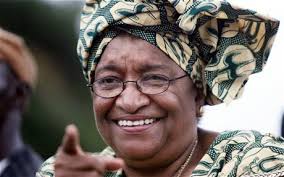 05 September 2013, Monrovia – Liberian President Ellen Johnson Sirleaf has instructed the management of the Liberia Electricity Corporation, LEC, to speed up the electrification of communities in and around Monrovia and its environs, saying that she is seriously concerned about the slow pace at which power transmission is being distributed and wanted first-hand information about what is obtaining at the Corporation.
According to an Executive Mansion release, President Sirleaf gave the instructions during an unannounced visit to the LEC on Tuesday. She said she could not understand why the process of connecting communities to the electricity grid was slow, and said she wanted the LEC to work with the materials on hand to speed up the electrification of the various communities.
The Liberian leader was responding to the management's statement that the bureaucracy established by the donor community is seriously hampering the electrification of Monrovia. "Forget about the restrictions and go by our plan to get the work done. Just do it and leave their complaint of not going by their plan. This is ridiculous that we have all this material here and still cannot generate power," she lamented.
She told LEC officials, "When you stick to the plan as you will present to Cabinet on Wednesday, September 4, once endorsed, you have our support. Whatever comes out of carrying out our plan to light Monrovia, I will take the responsibility and not you, the management."
President Sirleaf wants the LEC management to move away from the low-income connections to the bigger generation areas, and believes that by sticking to the government's plan, progress will be made. She encouraged the employees to work with management to speed up the process, as the need for electricity is high and nothing, if not resources, should serve as the obstacle to government's plan to electrify Monrovia and other parts of the country.
The employees promised to cooperate with the management to fast-track the electrification process, which would equally benefit them as they live in communities that are to be electrified.
On hand to receive the Liberian President at LEC's Bushrod Island facilities were the Minister of Lands, Mines and Energy, Mr. Patrick Sendolo; and LEC's Deputy Chief Executive Officer, Mr. Joseph Mayah, among others.
The administration of President Sirleaf has made energy one of government's top priorities in its quest to build a vibrant economy and improve the lives of ordinary people.
– Daily Maverick