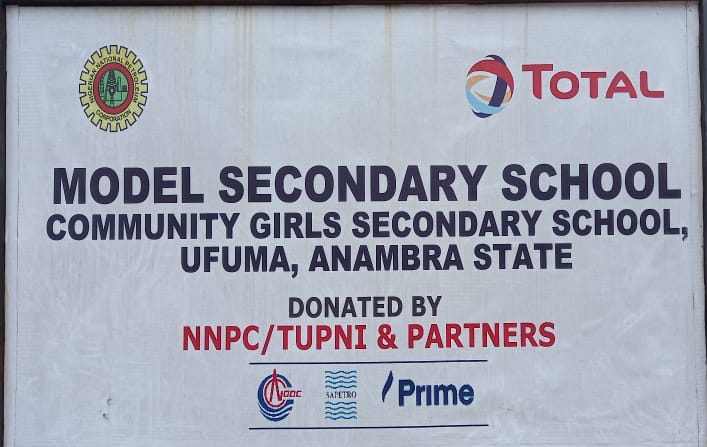 OpeOluwani Akintayo
Lagos — TotalEnergies Upstream and its Production Sharing Contract, PSC partners (CNOOC, SAPETRO & PRIME (formerly PETROBRAS), have commissioned a state-of-the-art secondary school structure at the Community Secondary School, Ufuma, Orumba North LGA, Anambra state.
The commissioning is part of TotalEnergies Upstream Corporate Social Responsibility, CSR commitment towards providing qualitative education within her operating area – Nigeria, particularly in the area of capacity building and specifically in education.
Following the commissioning and handing over ceremony held on Tuesday, Orumba community is left with a complete model secondary school, equipped with the best facilities for improved learning, which, according to TotalEnergies, is also in furtherance of its commitment to contributing to the UN's sustainable development goals (SDGs) desires to execute social investment projects.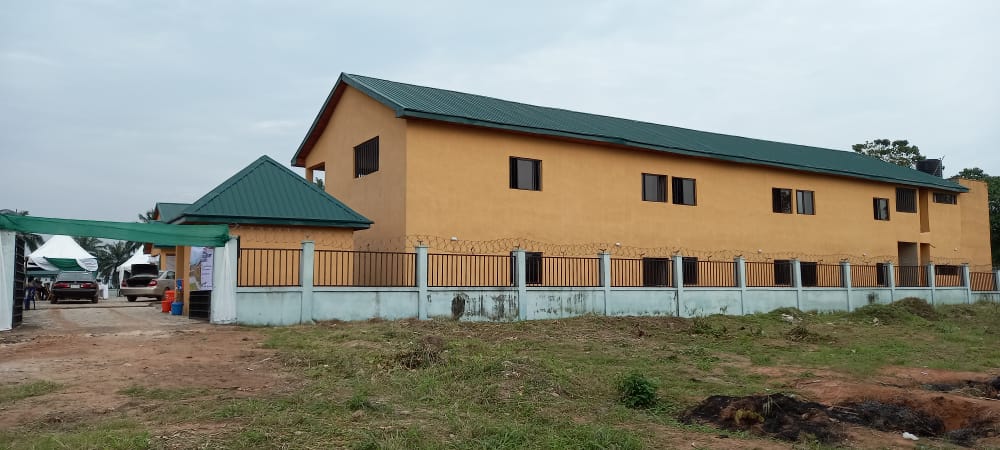 In his speech during the handing over, Sangster said the projects scattered across the country, were borne out of the need to mitigate the gaps in qualitative and technical education, maternal and child health, access to clean water and women and youth empowerment.
"They are in congruence with the related United Nations Sustainability Development Goals. The locations of these projects have also been very carefully chosen for maximum impact, coming from a need assessment carried out before the deployment.
"As already mentioned, the project we are commissioning today is one of the several projects being deployed across the entire country. Unfortunately, because of the Covid-19 pandemic we could not be physically present with you today. However, we have adopted this efficient and effective remote commissioning strategy to ensure delivery of all completed projects. I thank our senior partners, NNPC, and our PSC partners, SAPETRO, PRIME and CNOOC, who have joined us in providing the means, the processes and the resources that enabled us to deploy these local development projects. I also thank our several stakeholders including the State & Local Governments, beneficiary institution and the Project Managers for their support. As we hand over the project to you today, we implore you to ensure its sustainable use to impact on the people positively. The sustainability barometer shall be seen during our Impact Assessment Exercise, when we will come back to check how this project has helped and improved the impact of the hospital and lives of the benefitting community," he said.
Bala M. WUNTI, General Group Manager, National Petroleum Investment Management Services, NAPIMS said the completion and commissioning of the project in 2021 is in furtherance of the Corporate Social Responsibility initiatives of the Nigerian Government through its Oil and Gas sector.
"In NNPC, our vision for social intervention is to continue to operate in an ethical and sustainable manner and deal with the environment and social impacts occasioned by our activities. We pride ourselves in our slogan "we touch your lives in many positive ways", hence the approval for the deployment of various CSR projects by our operators across the country for maximum impact. NNPC along with its partners have implemented various projects in the areas of education (building and equipping of schools/ classrooms, laboratories, donation of books, scholarships, Quiz competitions, etc.) skill acquisitions and economic empowerment, healthcare, solar power and other infrastructural intervention projects.
These projects were borne out of the need to mitigate the gaps in Health Care, Quality Education, Water, and Women & Youth Empowerment in line with the relevant Millennium Development Goals (MDG). NNPC and its Partners are socially responsible organisations committed to improving the livelihood of the citizens of our great country, Nigeria.
"NNPC will continue to consistently champion the implementation of Sustainable Community Development projects that will positively impact the lives of the citizens of this Country. We are very proud and elated to be commissioning yet another laudable and essential project. We know that this facility will help provide succor to the people for the purpose it is intended," he said.
Project structure
The structure which comes with all the rudiments of a complete school, sits on 7,000m and consists of two buildings:
1) An Administrative Block consisting of well laid out, equipped and furnished offices for the
principal, vice principal, secretary and teachers, sick bay with all its appurtenances and storage
facilities –
2) a main school block consisting of 12 classrooms, fully equipped for 40 students each, five (5)
state-of-the-art science laboratories, two (2) libraries and one (1) ICT Lab among several other
wonderful features.
3) The complex comes complete with 10 capacity car park facility, driveway, walkways, courtyard,
integrated power supply of 60kva soundproof generator and 15kva solar powered inverter
(supported by 48 roof-mounted solar panels), borehole with water reticulation and beautiful
landscaping.
Specifically, the structure is made of the following:
1- The administrative building is 240m while the main building is 1280m and the security & 2generator building is 55m.
2- There is a reception area and a total of 14 Offices; 4 offices in the administrative building for the
principal, vice-principal, secretary and one management office, 10 offices in the main building
for the teachers and technical rooms. The offices measure between 40m2 for the technical rooms, 85m2 for the teachers' rooms and 74m2 for the Admin offices.
3- There are 12 classrooms of 60m2 each
4- The sick bay and first aid room cover an area of 25m2 each.
5- There are three (3) libraries of 60m2 each and five laboratories of 65m2 each. Each of the laboratories have stores and offices for subject matter teachers
6- There is also a general storage facility of 20m2
7- For proper sanitation and good hygiene, there is a total of 24 toilets with bidets, urinaries, wash areas, etc., and 3 cleaners' rooms.
8- For good ventilation, air circulation and lighting, there is a courtyard of 350m2, well interlocked, to add to the beauty and aesthetics of the environment
9- For safety, there are four staircases at the four angles of the building as well as four emergency exits strategically located.
10- For security, the entire complex is completely fenced, with see-through fencing at strategic sides, to guarantee maximum security of lives and properties.
Equipment, Furniture & Fittings
1- 0.55-gauge long span aluminum roofing sheet, aluminum windows, wooden doors and steel doors, floor and wall tiles, Armstrong type suspended ceiling
2- Integrated power supply consisting of mains power supply, one 60 KVA power generator and 15 KVA solar power unit
3- Fire alarm system with several smoke detectors
4- Thunder Aristo lightening protection system
5- ceiling fans
6- HDF wooden laboratory desks for instructors and students, with wash hand basins with 2 taps and flexible PVC pipe for extra connection. The electrical socket outlets are wired with minimum 2 3.5m cable and terminated with 13A square plug for connection.
7- Polished hardwood kitchen cabinet with doors, several sinks and with tile grouting and adhesives
8- Several polished centre tables, executive office tables, executive chairs, swivel chairs and wooden HDF office cabinets, etc
9- 227 student laboratory stools
10- Six 6-burner gas cookers with oven
11- 10nos 50kg LPG gas cylinders with regulators
12- 16 firefighting extinguishers
13- Water borehole system with overhead tanks and reticulated water supply
14- Soap dishes, toilet roll holders, toilet brushes and holders
15- Laboratory reagents and apparatuses
IMPACT OF PROJECT ON THE SCHOOL
1- The fully equipped Model Secondary School block is built with state-of-the-art facilities and is arguably one of the best in the state. It is expected to offer significant benefit to the economy of the school due to its proximity to the students for all purposes, especially for science practical examinations. Students from other schools, who are not privileged to have such equipped laboratories, can also benefit if harnessed properly.
2- It is hoped that the existence of the libraries and laboratories should automatically improve learning and increase the interest in science subject education. It will, among several other benefits, improve scientific reasoning among students and enhance performance in science subjects especially.
3- The well laid out teachers' offices will offer the teachers the opportunity to prepare for their lessons, etc. the facilities will offer the teachers opportunity to improve themselves.
4- The sick bay will greatly reduce incidents and possible fatalities in the school due to the availability of first aid impartation.