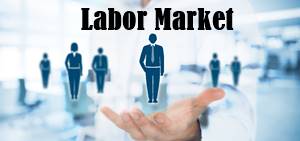 News wire — The number of Americans filing new claims for jobless benefits unexpectedly rose last week, but remained below pre-pandemic levels as labour market conditions continue to tighten.
The first increase in a month reported by the Labor Department on Thursday did not change economists' expectations for another month of solid employment gains in February, according to Reuters.
There is an acute shortage of workers, which has seen employers boosting wages and offering other incentives to retain their workforce as well as attract labour. Economists blamed the rise in claims on week-to-week volatility in the data and harsh weather in some parts of the country.
"Given the regular noise in the data and the range of factors that can impact filings we don't think the recent jump in initial claims filings is particularly worrisome at this point," said Daniel Silver, an economist at JPMorgan in New York. "Overall, we think that the labor market remains tight."
Initial claims for state unemployment benefits increased 23,000 to a seasonally adjusted 248,000 for the week ended Feb. 12. Economists polled by Reuters had forecast 219,000 applications for the latest week.
Unadjusted claims climbed 7,742 to 238,482 last week, lifted by big increases in Missouri, Ohio and Kentucky, which offset notable declines in Pennsylvania, New Jersey and Wisconsin.
Claims had been declining since hitting a three-month high in mid-January as coronavirus cases, fueled by the Omicron variant, raged across the country. Infections have dropped significantly in recent weeks.
There were a near record 10.9 million job openings at the end of December. Claims have plunged from an all-time high of 6.149 million in early April 2020.
Follow us on twitter