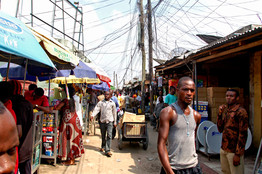 26 August 2013, Harare – Zimbabwe's Rural Electrification Agency, REA, has set aside US$1,5 million to empower rural communities through financing projects which use electricity.
In an interview at the Harare Agriculture Show, REA spokesperson Mr Johannes Nyamayedenga said the amount would be distributed equally among the country's eight provinces.
"The Electricity End Use Infrastructure Development is a facility initiated by REA to empower rural communities. We want those who benefited from rural electrification to engage in projects which are beyond the traditional projects of shops and bottle stores.
"We are saying when we extend the grid to rural areas people only think of lighting, cooking and entertainment, but we want to change that mindset so that people carry out projects that benefit communities," he said.
He said under the facility a person identifies a project of his choice and REA would send their business analyst to establish whether the applicant has electricity and a structure to operate from.
Mr Nyamayedenga said when REA is satisfied they ask the applicant to get quotations from companies which manufacture or sell the required machinery and REA will pay the company.
"The supplier will deliver and install the machinery on the premises of the beneficiary. The beneficiary must first show interest in the project by paying 10 percent of the purchase price.
"The beneficiary will be given a six months grace period before starting to repay the loan of US$20 000 and below and eight months for more than US$20 000," he said.
– The Herald