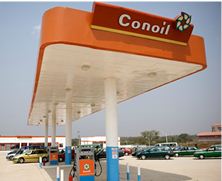 02 October 2012, Sweetcrude, LAGOS – CONOIL Plc, one of Nigeria's leading petroleum marketer and manufacturer of industrial and automobile lubricants and liquefied petroleum gas, has introduced a new dimension to the distribution and marketing of lubricants and domestic gas to mechanic workshops and homes.
The concept is aimed, among several benefits, at improving the delivery of lubricants and cooking gas to the door steps of customers on real-time basis and at affordable prices.
The new initiative, simply known as COSA (Conoil Services Associates), guarantees product availability through branded motorcycles and tricycles.
Through COSA, the first of its kind in petroleum products distribution and marketing in the continent, the volume of the company's lubricant sales is projected to increase by over one million litres in one year. Another value addition of COSA to retailers, and invariably end consumers, is reasonable reduction in price.
COSA is also designed as the company's corporate social responsibility, as it is expected to create hundreds of employment opportunities and promote entrepreneurship among fresh graduates.
According to a statement released by the company, "COSA will create direct and indirect employment opportunities and reduce unemployment rate in Nigeria".
It would be recalled that Conoil recently announced, plans to invest N1.5 billion to re-invigorate the totally deregulated and high margin-yielding lubricant business over a four-year period with projected revenue of N33 billion over same period.
Towards achieving this projection, the company upgraded its filling lines at its Apapa Plant and constructed new ones in Port Harcourt and Kano to generate additional volumes.