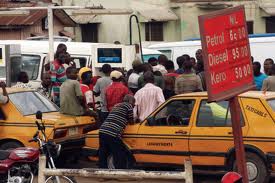 22 September 2012, Sweetcrude, LAGOS – NIGERIA'S oil industry regulatory agency, the Department of Petroleum Resources, has warned fuel station operators against sharp practices, saying it would crackdown on stations involved in under-dispensing of petroleum products.
DPR's Operations Controller, Gbenga Kuku, who made this known, said the agency had been inundated with complaints of under-dispensing of products to consumers by some stations in Lagos, which had illegally adjusted their pumps.
Kuku spoke at the annual general meeting of the DPR and retail marketers in Lagos,Thursday, where he also warned against sale of substandard products.
He stated that, as part of measures to bring sanity to the petroleum retailing business, DPR would also revoke the licenses of all abandoned fuel stations in Lagos.
Kuku noted that despite the backlog of renewal licenses with the agency, it planned to address the issue and begin the renewal of licenses from next month.
The Head of Downstream, DPR, Soyebo Adekunle, disclosed that some measures were being put in place to curb illegal sale of petroleum products in the state.