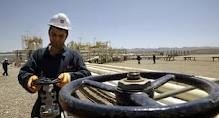 20 September 2012, Sweetcrude, KHARTOUM – OMAR Hassan al-Bashir, the Sudanese President, and his South Sudan counterpart, Salva Kiir, will hold talks in Ethiopia on Sunday to wrap up two weeks of talks to end hostilities between the African neighbours.
Diplomats said earlier that the former civil war foes were coming close at talks in Addis Ababa to a border security deal that would allow the resumption of oil exports vital to the economies of both countries, Reuters reported, Wednesday.
South Sudan became independent last year under a 2005 peace deal that ended decades of civil war but the two countries have yet to resolve a series of issues related to partition.
Border clashes had almost boiled over into full-scale war in April, although tensions have abated since then.
Bashir had agreed to accept an invitation from Ethiopia to hold a summit with Kiir in Addis Ababa on 23 September, the Sudan News Agency (Suna) reported. No details were provided.
South Sudan's chief negotiator, Pagan Amum, told Reuters he needed to confirm the summit date with the government in Juba but added he was optimistic that the meeting would take place.
The summit news came after a Western official said both nations had made much progress towards a broader framework agreement to end hostilities, as demanded by the United Nations Security Council by 22 September.
"We appreciate the strong efforts the parties have made towards the outstanding issues and we are confident that they will reach an agreement before the end of the deadline," Norway's special envoy for Sudan and South Sudan, Endre Stiansen, told Reuters on the sidelines of the talks.
"And the summit is necessary to close this deal," he added.
Norway is a neutral mediator in the talks and advises both nations on oil issues.